January 11, 2010 at 1:15 PM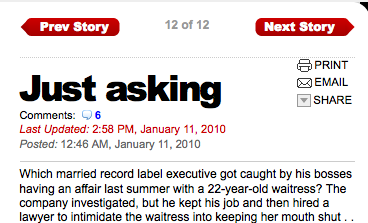 Wait...people still know who run major labels?
For the most part, the only big-time record executives I can think of are the ones from all those VH1 specials re-runs about Tommy Mottola and Mariah Carey when they were married that always had that picture of them from their wedding with her huuuuge hair and immediately follows with the voiceover saying "they divorced soon therafter" and a clip of her singing "Honey" on the beach.
Unless it's about the guys who run Frenchkiss or a fun tidbit about the inner workings of Merge, I'm not even going to waste my guessing power. That's obviously what Cash Cab re-runs are for.
//
oh, thanks:
Carlye
|
Post a Comment
|